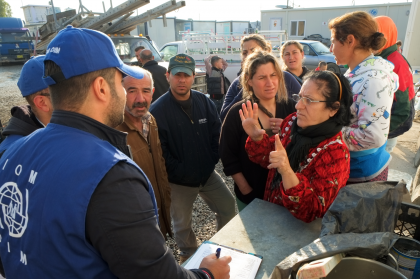 The Italian Ministry of Foreign Affairs and International Cooperation has provided funding for IOM to implement a project to contribute to stabilization of conflict-affected communities in Diyala governorate, Iraq.
The one-year project aims to foster social cohesion, reduce tensions between local communities and displaced Iraqis and returnees, and support the role of women in peace and security.
Since January 2014, more than 3.3 million Iraqis have been displaced due to the ongoing conflict. Diyala, one of Iraq's 18 governorates, is in the centre-east of the country and hosts over 86,000 internally displaced persons (IDPs); nearly 90 percent of them (more than 77,300) are from within the governorate, over 4,400 are from Anbar governorate, and nearly 3,300 are from Salah al-Din governorate.
The number of IDPs in Diyala is expected to rise as a result of military operations to retake Mosul. Diyala governorate also hosts over 167,000 returnees, that is, formerly displaced persons who have returned to their locations of origin; these account for approximately 18 percent of all returnees across the country.
The community stabilization project will involve four communities in Diyala governorate. Activities will include the establishment of a community centre; social events such as community theatre and sports matches; and meetings with community leaders. The activities will enable participants to engage in meaningful communication in a safe social space.
Training will be provided for community focal points on psychosocial support and peacebuilding. Caseworkers and trained focal points will facilitate sessions for IDPs and host community members to identify grievances and painful experiences that might fuel tension, and create forums for dialogue to promote mutual understanding between population groups.
The project also aims to promote the role of women in peace and security at the community level. IOM will seek the assistance of local women's organizations in Diyala that are working towards the implementation of the Iraqi National Action Plan on UN Resolution 1325, "Women, Peace and Security", which reaffirms the role of women in conflict prevention, peacekeeping, humanitarian response and post-conflict reconstruction. Training will be also provided to selected women in peacebuilding and conflict mediation.
In implementing this project, IOM will build on its close collaboration with the Government of Iraq, in particular with the Ministry of Migration and Displacement, Ministry of Labour and Social Affairs and Ministry of Women, as well as on its relationships with local government authorities and communities.
IOM Iraq Chief of Mission Thomas Lothar Weiss said: "Communities in Iraq are hosting thousands of displaced families in this time of crisis. The stabilization process requires the involvement of all actors: government representatives, civil society organizations, and community groups, especially those involving women's role in peacebuilding. IOM looks forward to continue supporting conflict-affected communities, particularly as thousands of displaced families are now returning to their homes."
The Embassy of Italy in Iraq welcomed the opportunity to work with IOM Iraq to contribute to supporting social cohesion in Diyala. "Community stabilization is crucial to achieving the overall objectives of stabilization in liberated areas of Iraq, and in regard to Diyala governorate, there is space for greater commitment from the international community," said a spokesperson.
This project further supports IOM's humanitarian relief and community stabilization initiatives in Diyala, including livelihood and income-generation activities, emergency health projects to provide life-saving primary, maternal and child health services, and support to camp coordination and camp management. IOM has a well-established community stabilization methodology, built throughout nearly a decade of experience working with vulnerable communities in Iraq.